Stian Borgen
As he works and lives in our home city, we had to contact him to see if he could be the first artist to contribute to our vintage caravan.
We went to visit him at his atelier and after some conversation and art inspection he enthusiastically agreed to donate the first art to our caravan.

The up and coming young artist from Tønsberg, Norway, now living and working in Fredrikstad, Norway, Stian Borgen, is an artist to keep an eye on.

Stian uses a varity of techniques and colors to express his desire as an artist.

His inspiraton is from the well know American artist Jean Michel Basquiat who resently set a new record for the price of visual art in USA.
Benjamin Carbonne
French artist we met in Montpellier. Well established and known worldwide for his realistic, artsy, always black and white, human body paintings. Expressing something you really want to understand.

He´s been nationally, and later widely, recognized since age 20. Now in his 50s, he has had some years to practice the skills needed for a profesional
artist, but never stops evolving his craft. Studying anatomy to gain a better grasp of the human body and as he told us; wanting to
make his paintings in motion. He is just amazingly skillful, and a magnifisant artist.
We spent two hours with him over coffe and cigarettes, naturally. Down to earth, well-rounded human being with a
philosophical mindset. His art is stunning. He´s sought after, and travels all-around the world thanks to his pencil.
Bodegas Tradition art gallery
Not only did Bodegas Tradition in Jerez, Spain, offer 50 years old delightful cherry wine, cheese, cholate, and different olives, but also a magnificent collection of paintings dating back to the 15th hundred and until 19th hundred making sure they show you that they deeply appreciate and possess a high quality of taste, making this collection into an art gallery to remember.

At only age 25 she is a regular writer for the most popular sope opera Tv show in Hungary, freelance illustrator for multiple books of
different kinds and freelance artist with her own printshop in Hungary. She is a fun, intelligent, loving and creative soul.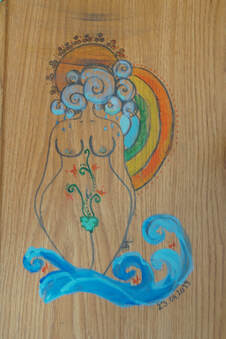 E
ducation in literature and been a teacher for kids almost here same age. She is a really loving, kind and fun person with a potential
to become the one remembered.
We met Agnes in Italy where we volunteered at a place called Centro D`Ompio.
Agnes contributed with a colorful painting of a woman, as she said we needed a woman on our tour, whit her head elsewhere while appreciating the good things in life.

​
Thank you again
Ágnes
, hope we meet again.
​